Safety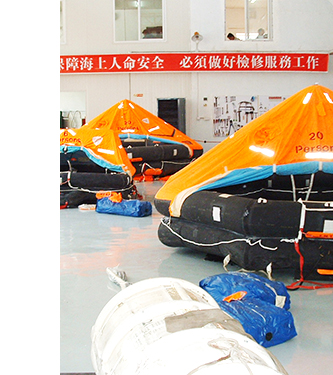 Starting from 2006, OHM Safety Service Division has been the professional and leading marine safety service provider in China. We are offering FFA and LSA solutions to well-known international shipping companies, PMS has the competitiveness of more than 10 years service experience and well-established network/workshops, professional team, 11 Class Approved for FFA services and maker approvals.
OHM has well-facilitated workshop to carry out high standard safety service in each branch office. We have trained 50 qualified safety technicians and skilled workers in OHM Group, we are able to offer 24/7/365 "One-stop" safety service solution to your vessels at all Chinese ports and shipyards.
Service Range:
FFA
Conform with international conventions: SOLAS、FSS CODE, MSC.1/CIRC.1432, MSC.1/CIRC.1318 and inspection specifications required by flag states. We serve about 1000 vessels per year in FFA services:
Fire Fighting Service is certified by ABS, BV, NK, CCS, LR, DNV, GL, KR, IRS, RS, RINA classes

Portable Fire Extinguishers

Fixed Fire Extinguishing System (CO2/FOAM/HALON/DRY POWDER/FM200)

Water Mist System Service; Wet Chemical System; Fire Detection System Maintenance

Breathing Apparatus, EEBD; Oxygen Resuscitator Service & Maintenance

Flexible hose of CO2 System Supply & Installation

LSA
Immersion Suit Service & Repair for AQUATA, LALIZAS, & major Chinese makers

Life Boat and Davit Inspection & Maintenance certified and trained by

Oriental, Dongnam, Dongwoo, Kangnam,Wuxi Wenjiao, Wuxi Huahai, Wuxi Hongsheng, Wuxi Dongwu and Wuxi Haihong (trained), also certified by BV, NK, CCS, LR, DNV, GL, KR, RINA classes


CSM and LALIAZAS authorized Life Raft service stations

Package service for VIKING, RFD, DSB, FUJIKURA, ZODIAC, SAMGONG, YOULONG etc.
CALIBRATION
Portable/Fixed Gas Detector Annual Calibration authorized by BW, Drager, RAE, MSA, GMI, CROWCON, RIKEN KEIKI, TOKA SEIKI

UTI Calibration

15ppm Calibration